Questions?
Contract NC programming
This allows machine shops to make parts without having the proper software, typically for 3D parts.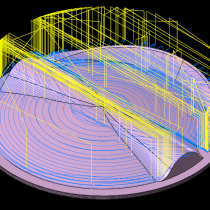 NC file transfer
Software and cabling to allow sending of NC files to your CNC – no more floppy disks or manual typing.

Our Clients
We work with clients from all industries across the Maritimes.
Testimonial
"We can always count on Paul for fast, efficient, knowledgable service. His follow up service has been equally outstanding."
Steven Dexter
First Rate Machining Ltd.
 Software services
Maritime CAD/CAM and cobot Ltd. stands behind all products sold:
on-site training on Mastercam, Verisurf and Hexagon portable CMM arms and laser trackers.
on-site installation and updating
installation of NC file transfer software and cabling
on-site training on collaborative robots
design and installation of collaborative robot workspaces
In addition, Maritime CAD/CAM and cobot Ltd. offers:
contract NC programming services for manufacturers who may not need CAD/CAM software all the time, or for a 3D part that exceeds their current software's capability
measuring of large or complex parts (fabricated, machined or cast), reverse-engineering and tool qualification.
Measuring
Our state-of-the-art portable measuring arms make it easy to measure any object in any environment. Whether you need exact dimensions of parts made out of composite materials, plate and fabricated metal components, molded parts, or vehicle bodies, we've got you covered.
Have an eroded or broken part that you need to reconstruct? We can measure worn out parts and rebuild the original model.
Why Hire Us?
Reliable 3D Measurements
Portable Tools Avoid Costly Installations
Fast (sometimes even next day)
Extreme Versatility